04/12/2010
Well now the chassis is welded together I need to think about, primer, seam sealer, underseal etc. However I Have just been reading another similar build and most people add a bit of reinforcement to ensure the tunnel join is nice and strong.
So I used some of the section I cut out to make up a sleeve to wrap over the top of the tunnel for extra strength.
It was also a pain to reach inside the tunnel to replace the gear rod bush and tack weld the conduits back into place, so I cut an inspection hole in the bottom of the tunnel which I now welded back up.
Now I was ready to think about primer sealer etc, I have decided to first go round all the weld joints with Zinc primer, then polyurethane seam sealer, then two coats of Hammerite before finally using Underseal.
First stage is the zinc primer around the weld joints
After the Zinc primer I used Dintrol seam sealer, before coating with Hammerite then finally Waxol underseal, now ready to turn over and get started on the upper side of the floor plan and chassis, again with seam sealer , and Hammerite, before refurbishing the suspension.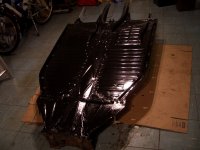 Finally finished the chassis !!!, turned over the chassis applied seam sealer and hammerite to top of chassis. Almost forgot the re-positioning of the seat belt mounts, so cut the spot welds away from the original mounts, (left on the inside of the section I removed), then drilled a 12mm hole in each side of the tunnel, (positioned as per Chesil instructions), then two 10mm holes either side enabling me to 'plug' weld from the outside of the tunnel. it was easy enough to reach inside the tunnel from the rear and use on of the UNF bolts to hold the captive nut/plate in place whist I plug welded... job done..
Now I am ready to start re-furbishing and building up the front and rear suspension, I have already removed both spring plates as I intend to use 'adjustable' plates to give me a bit of flexibility regarding height adjustment. Will have to wait now until the new year when postage is back up to normal..